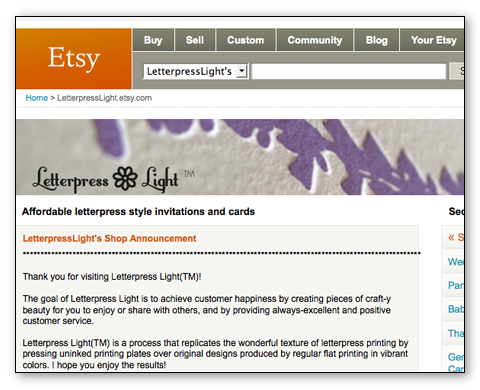 Letterpress Light is an alternative to traditional letterpress and uses a process that reproduces the wonderful recessed texture of letterpress printing without using a letterpress printing press (hence the name Letterpress "Light"). Heather Noss, owner of Letterpress Light, makes her own photopolymer plates from her original designs or client supplied files, presses them unlinked over prints produced by regular flat printing. The results are remarkable and the greatest advantage of this method is the printing process. There is no difference in turn-around time in regards to the number of colors used in a design.
Letterpress Light can be contacted through www.letterpresslight.com or at Etsy. Heather has several of her designs ready to be customized for your needs or she can work with you to produce your own vision. For a truly new design, clients should allow at least three weeks for the design process.
Heather's craft and customer service are second to none. I've worked with Heather personally and had her produce my wedding invites that I designed. The finally product was better than I could have expected!